To submit the request for a free copy of your official transcript, please use one of the two options below. (Note: All official transcripts will be delivered via postal mail. Electronic delivery is not available. Transcripts are not available for immediate pick up. In person transcript requests follow the same processing time frame found here):
OPTION 1
Visit the forms library on the Virginia Western homepage and download the Academic Transcript Request form. You can email the completed form to records@virginiawestern.edu, fax it to 540-857-6102, or bring it to the Enrollment Center in Chapman Hall Room 108. Email address, fax number and Enrollment Center address are found on the top of the form.
Please complete the form to the best of your ability. The student signature is required to give the college permission to release the academic record. You do not have to know your ID number to request transcripts. The Records office will process your request with the information provided or reach out to you if they have questions.
To request an Official transcript to be sent to you directly, you will need to select Option #3 and include your home address.
Students will have three options on when transcripts will be sent out as shown below:

OPTION 2
Through the Student Information System by logging into your MyVWCC account (instructions here). If you do not know your Student ID, or are not able to log into MyVWCC, please submit your request via the instructions in Option #1.
Students will have three options under "Select Option" for processing transcripts.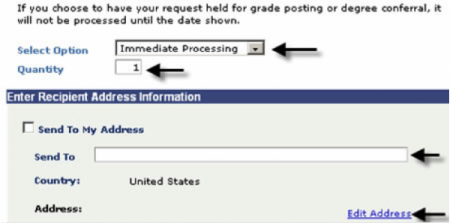 *Note: Student's will receive an email in their Virginia Western email and will receive a notification within their Student Center in the Student Message Center.


Student Records > Outgoing Transcript Requests